Stop.Breathe.Aperitivo
In these turbulent times we all need to take some time out to chill and enjoy some sense of normality. For us, that means treating ourselves to an aperitivo before dinner. Stopping to makes some nibbles - cheese, jamon/san daniele/saucisson sec, pickles (Laura has an obsession with little onions and cornichons), olives, crackers… you get the point.
You know when you are fully italianified when you start craving that negroni 5 o'clock sharp
- Laura
What is Aperitivo?
When the sun sets it is Aperitivo time - like happy hour except with the addition of little snacks. It's a time to prepare your stomach before dinner, open your palate and stimulate your appetite. Supposedly the tradition hailed from Piedmont but is now common practice all over Italy when friends and colleagues meet in bars after a long working day, for some chatter over a drink. Choice of poison was originally vermouth but now days people drink prosecco, sprtiz, negroni etc.
For Foo this was a common occurrence when working for a software firm in Italy. The office used to be on the hills outside Trieste, and a group of colleagues would stop by the local village bar on the way home almost every other day, ordering americanos for everyone and discussing the latest happenings in the software world and vent our frustrations with newfound bugs in the software we used. They quickly became regulars at that bar - up to the point that ordering was not necessary, and plenty of snacks were on the house.
Negroni breakdown
Campari is that iconic red liquor that makes any drink shout "I'm an Italian aperitivo", much more than its cousin Aperol (Foo insists that spritz is made with sparkling water and not Aperol). We have not played around and substituted Campari for another bitter or found suitable alternatives to try yet. Americanos (not the coffee kind) have an addition of soda water, we can't for the life of us find the fever tree soda water in supermarkets near us so we just get what we can (Scwheppes/non-branded), maybe we will try get a soda stream one day to make our own seltzers - who knows!
Let's dive into some of the spirits we have tweaked and have some opinions on.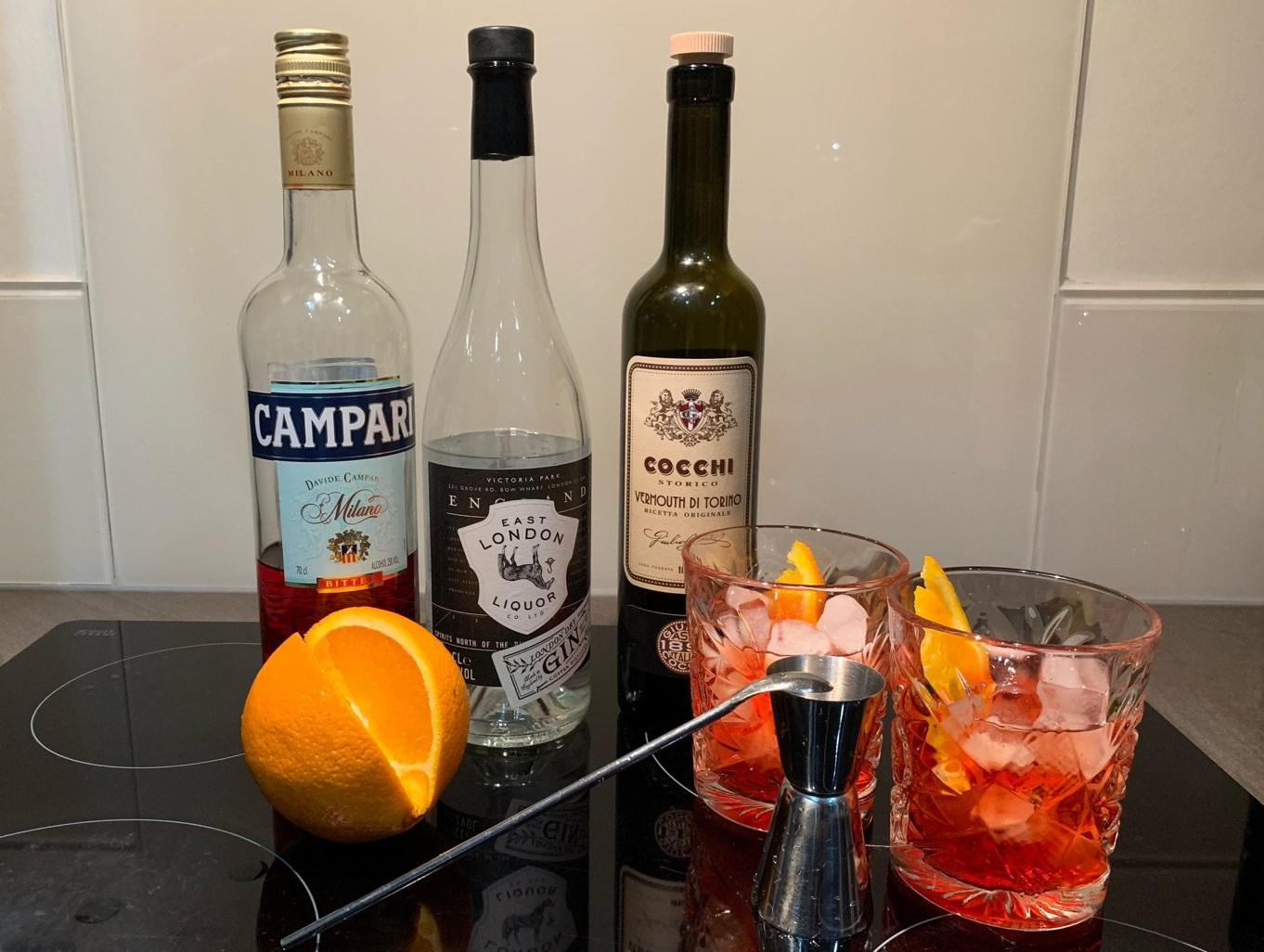 Gin
Our go to base gin for cocktails tend to be London dry gins.
East London Liquor Company's Premium Batch no.2 makes a darn good negroni - highly recommend as its herbaceous notes play well with the bitters. Lately, we have been using their London Dry and it's a solid base - not too junipery and well balanced. Another go to gin in this household is the Portobello Road London Dry which again is a great base cocktail gin and not overpowering in herbal notes that throw off the balance of the cocktail.
Vermouth
Vermouth is a fortified wine, the flavour profile varies due to the combination of botanicals, this is what makes switching up vermouths fun when experimenting with cocktails. Vermouth is making a bit of a come back these days with vermouth bars popping up around London - we visited the Vermuteria in Kings Cross pre-COVID-19 and tried a few vermouths, just on ice with garnish.
Our favorite vermouth to date is the Antica Formula, it's a spicy, full bodied vermouth with the right hit of sweetness.
We recently picked up a bottle of Discarded vermouth, that is made from cascara berries (the fruit of the coffee plant). It's too sweet for our preferences, but the concept of the brand is something we can get behind - turning something that is usually disposed of into tasty liquor.
Running low on the the Discarded, we decided to try something different and got a bottle of Cocchi Vermouth di Torino. Our expectation was to move from the sweeter end of the spectrum to something spicier like the Antica Formula - instead we found some well rounded chocolate-y, caramel-y notes and balanced bitterness. Still too sweet for our liking in a gin cocktail, but mixed with whisky makes for a fantastic boulevardier.
We had a bottle of Dolin red vermouth in the past but it was pretty underwhelming. Good as a starter vermouth for cocktails as you get more for your money but hands down - we suggest grabbing a bottle of the Antica Formula to up your cocktail game.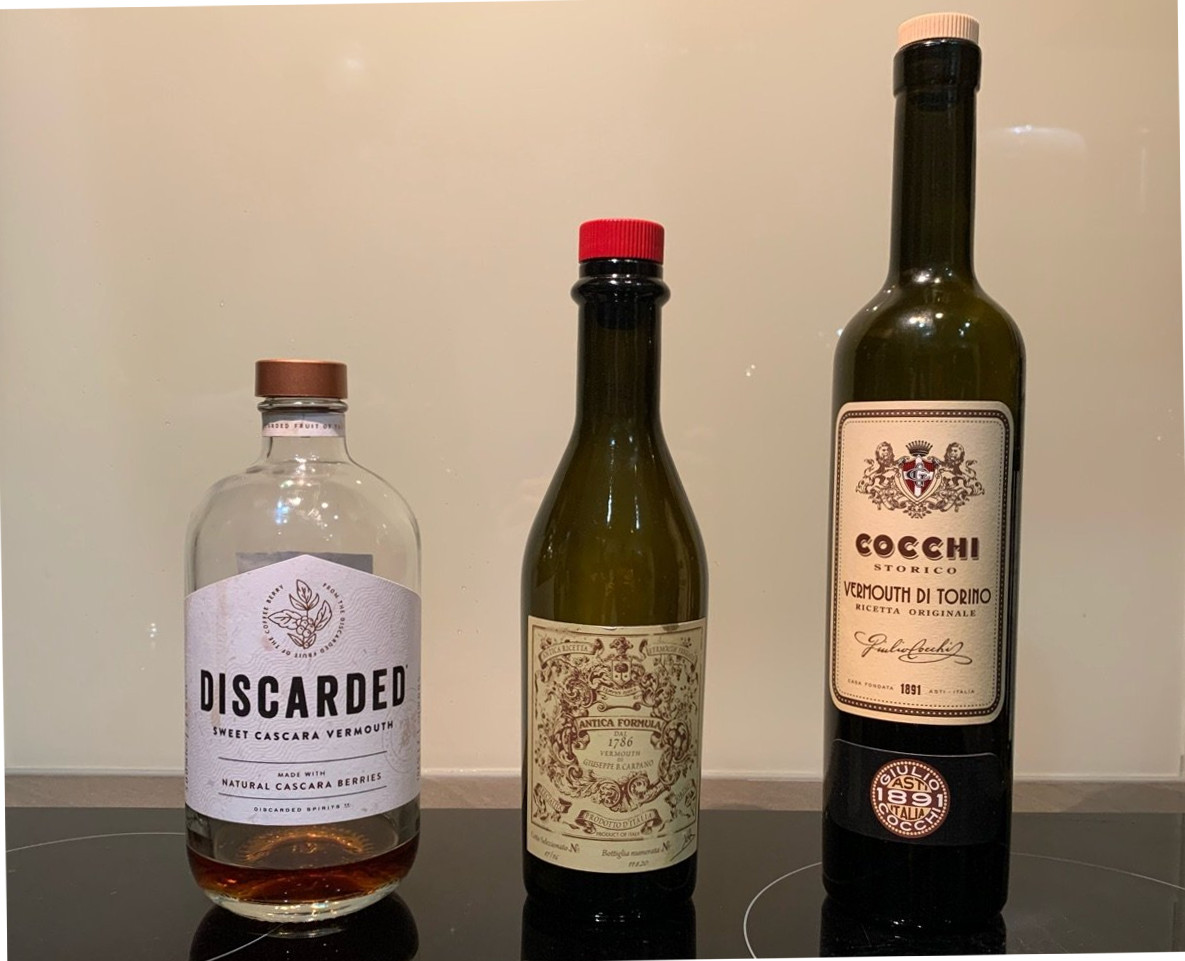 Garnish
Most of the time dropping slice of sweet, juicy orange with skin on provides an extra zing and brightness to a negroni/americano but if you are out of oranges, a few drops of orange bitters is also nice. If you have some nocellara olives lying around maybe you can drop one into your americano.